The Extensive Audio Biography
The High Desert California Years
Joseph Anthony Wozniak grew up in a boring place where everyone played guitar. Apple Valley California was the home of Harper Guitars, where the bassist in his first band worked, and the father of another good friend built guitars for Eddie Van Halen and Blue Oyster Cult. B.C. Rich Guitars originated in one of Sublime's shoutouts, Hesperia CA, just down the street. He got his first web-design job rebuilding PlexiPalace.com, the biggest vintage amplifier message board on the net in 2004. Mojave Ampworks, famous for sponsoring Billy Gibbons of ZZ Top and making pedals for Peter Frampton, also employed him to rebuild their site, although both sites have long since been updated.
This guy was raised by a mom who ran an animal shelter and a rocket scientist dad. Electronic parts were all over the house to play with. With the help of his former-Hendrix-roadie neighbors, the Saar family, he picked up the Guitar in the mid 90's. Immediately he began building his own guitar amps out of car stereo equipment and answering-machine parts. Clones of pedals he and his friends couldn't afford were slapped together in boxes made from bent VCR tops and parts from any old A/V gear donated to the cause. He played guitar in several highschool bands in the late 90's, such as Kaaji, Elite, and Shaggy's Box Farm. This lead to fronting Old John Feather Merchant in 2001/2002, with whom two EPs were self-released. These were his first attempts at abandoning 4-track cassette and recording on the computer, with a homemade optical compressor (a Joe Meek Clone) and Cakewalk Pro-Audio 9. The first was titled "The Last Ordinary July," a sprey-painted CDR with the insert printed on layers of overhead transparency. The second, entitled "Robot Girlfriend," was a split EP with Bad Onion. During the next couple years Woz put a little Motu/Mac-based home studio together and recorded a couple high desert acts such as Out on the Tiles, members of which later formed the infamous Bob Barker Bloodbath.
During the first half of the Naughties a solo studio project known as Ice As Candy Project, with beats from circuit-bent toy keyboards and a hacked TI-85 graphics calculator, became an experimental bedroom breeding ground and predecessor to Frankensteins Calculator Club. During this time he played bass guitar for the post-ska/alt-surf band Radnesskat and the Contributors, who also backed him while he performed some original material as Franklin Delano Roosevelt. This was part of a small series of improvised performances named after US presidents such as Abraham Lincoln. This was a performance backed by members of what would later become the band Tygers of Wrath, such as fellow effect-builder Ahmad Ibrahim, with the addition of a trashcan-and-bucket-Abraham-Lincoln-robot mascot.
Vegas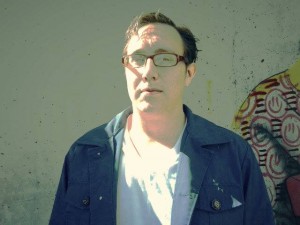 Woz Supposedly, as a flippant Facebook joke lead him to be known, moved to Las Vegas Nevada in July 2006. During the next two years Woz continued solo writing and recorded a few tracks with his first wife Erin under the name Whittershins. After bombing the open mic scene and terrorizing promoters such as K Caruso and J Quigley for two years, a particularly memorable looper-based performance of the song "Familiar" caught the attention of RJ Russel, who brought him in to jam with his band: The Feeling of Falling. This band dissolved along with his marriage in the beginning of 2009, but Woz brought the same guys back together to form Rooftop Ridicule, who within a year signed with DC indie label District Records. Known for all the members switching instruments throughout the set, RJ and Woz combined their strongest songs to release the EP "Eat Batteries" in 2009. At the same time, Woz showed the label an EP worth of solo material he had been working on under the name Frankenstein's Calculator Club. An anthology of songs created since moving to Las Vegas, and largely the result of an exercise in learning Pro Tools, the FCC album "Handshake Grenades" was picked up by the label and simultaneously released on iTunes along with Eat Batteries.
Rooftop Ridicule played weekly at The Thunderbird Lounge in The Aruba on the Strip around 2009, a connection gained from Black Beans and Hippie Liver. In late 2010 Rooftop walked from the label and lost RJ Russel, but gained drummer Jules Pedregon and co-frontman Brett Bandrewsky. By mid 2011, Woz Supposedly was running the services department at Downtown Vintage Guitars, an infamous music-store/bar/venue in the heart of the newly-budding Las Vegas Arts District. There he modified gear, developed unique pickup wiring schemes, and built custom guitars such as a three-humbucker Strat known as White Beauty. (That's another Frampton reference.) The band dissolved along with the music store that winter, but Rooftop OGs AJ Gerst and Jonny Sweeteyes Martino found ex-Jack and the B-fish drummer Shane Apsey and Rooftop re-formed.
In 2012 Woz brought several new jazz-grunge songs to the table with this third-era Rooftop Ridicule. That year he also met an old ex-con named Mac Weeva. This grizzled poet blew his mind at The Beat coffee house inside Emergency Arts, a hub of Freemont Street local art culture, during a Human Experience poetry slam. A collaboration track with Mac built hype for him as Woz's "Black Grandpa," but a rebellious street busking incident lead to an altercation with a casino owner. In fear of an alleged hit out on his head, Mac Weeva the Hoe Retriever disappeared from the scene.
After three distinct eras of extensively touring the Las Vegas bar-band circuit, Rooftop Ridicule dissolved in late 2012. For a brief time however, AJ Gerst, Shane Apsey and Woz Supposedly continued playing as Oh No, Trippy Machete.
Throughout 2012 Woz also joined forces with former Moksha singer Angela Kerfoot on a mission to find local musicians who were making more club-worthy music. Under the pseudonym Frank Ouija, Angela recruited keyboardist Trav E B to back a project with Woz she was calling Lucky Cuss. This group released the album "Jargon" on CD Baby in early 2013.
Ang and Woz, as they are frequently known, recorded colab tracks with several local artists in 2013, such as noted Vegas R&B producer Post Scripted. A soft release album of assorted Ang and Woz material, from short catchy pop tracks to deeply psychedelic and lengthy epic prog-dance ballads, also dropped in 2013 under the name 'EASE:'. More collaborative jams took place with the pair at the home of flute-master GaryMike Schoentag under the names 'Live at the Nyahbinghi' and 'Viva Loco Combo' with various people such as Jimmy Haag, Dana Dau, Malo Jones. 
As if that weren't enough, Joseph Anthony Wozniak also did mastering for albums by Jack and the B-fish, the Marquees and Bounty Hunter Brothers.
Around this time Woz put out an increasing amount of YouTube content, ranging from bizarre Vegas experiences to live performances, all under the label Night Stories.
2014 Ang Kerfoot teamed with local Urban Psy music producer Dana Dau and producer/videographer Monica Sterling. Dau's articulately deep beats and acoustic guitar join Sterling's classically-trained piano behind live vocal effect manipulation by Kerfoot who creates haunting but skillful vocal scenes. Kerfoot collaborations continued with ECHOCOSMIC, Man On a Grill, Graphics on Televisions, and many more.
2015 marked the start of jam-prog juggernaut Greasy Conversation. This year also marked 'Kerfoot&Dau Featuring Monica Sterling' touring in Boston with Anda Volley and Andrew Scandal who also joined them at Burning Man Regional splinter-festival Forgotten City. Christina Lakis, local percussion guru frequently joins the trio on various hand-drums. Collaborations with UK artist 'The Inconsistent Jukebox' introduced another Vegas renaissance-woman, music video artist Dolll, who now joins Kerfoot as backup singer. In addition to tracking and mastering of the Kerfoot&Dau albums and live shows, Joseph Wozniak also mastered two Anda Volley album releases.
Remixes, Colabs, and Original Tracks continue to be released under the FCCmusic.com label, operating under the community's principles of contrasting flavors known as Sweet and Sour Theory.
Rest assured, there's something on this site for everybody, please browse this online directory and pick your favorite Wozzy projects, like them on Facebook, comment on the clouds, and Diligently support His Great Empire.